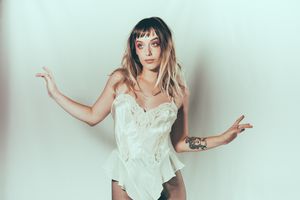 "

Neia Jane is an ever-evolving creative mastermind."
Neia Jane is an alternative rock/pop singer, songwriter and producer from Queenstown New Zealand. She spent her childhood among the Mountains before moving to Olympia, Washington as a teen. As a descendant of the riot grrrl movement, Neia Jane threw herself into the alt-rock scene of the Pacific Northwest, playing in several bands and discovering her love for writing songs.
At 18, Neia Jane moved to Boston, MA to attend Berklee College of Music. Out of the context of her hometown, she began to explore musically, dipping her toes in several genres including indie-folk and electronic pop. With a strong focus on songwriting, she has an ever evolving sound. Rooted in alt-rock, infused with influences from all over the place. This experimentation culminated in her debut full length album, "Magic & Honey," followed by the 90's grunge inspired single "Lady In Red," the synth-driven and self-produced "Break Ur Heart," the edgy and ethereal "Missing You Tomorrow," the anthemic "I'll Survive," and the nostalgic guitar-based "The Moment."
Now based in Los Angeles, Neia tells her stories with a unique sonic blend of distorted guitars, dreamy synthesizers, and soaring vocal melodies. With grit and grace, she showcases both her intense vulnerability and the edgy grunge-girl that is undeniably present in her music.
holy smoke photography